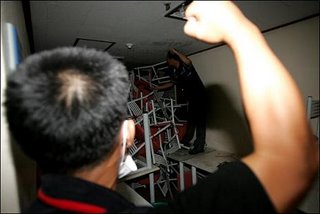 Looking back at some of the events from the last month here is a good
collection
of stories and pics on the raids against the Korean Government Employees Union (KGEU) from CINA.
Kotaji
also has some comments and the draft of letter of solidary from a meeting of European social movements recently gathered in Brussels.
Days in Daechuri also has its own
article
on the large rally against the removal of villagers in Pyeontaek that took place in front of city hall on Sept 24. They also have links to other stories on the rally as well as pics.